6 Best Spinning Rods For Trout Fishing | Fall 2021
One of the most commonly asked questions from new trout anglers is which spinning rod to purchase?
This is an extremely difficult question to answer because not much separates entry level trout spinning rods. To add to the confusion, price is not always an indicator of quality. Some $30 rods outperform rods which cost close to $100. Many rods also use the same blank, with only cosmetic and slightly fancier components separating them.
I can remember when Berkleys entry level trout rod was not only lighter but was more responsive than their so 'called' pro version which retailed for nearly twice as much. The 'pro' version probably did use higher modular graphite but that did not result in a better performing rod.

There is also an enormous number of different models and variations and every year, there seems to be new versions. I can remember speaking with one fishing store owner who was a bit annoyed because Shimano introduced a new series of rod, but all that they changed was the color of the wrapping. Because rod versions change so frequently, it is nearly an impossible task to test them all.
So in this guide, I am going to do my best. To reccomend the best spinning rods for trout fishing. My opionin is based on months of research, discussions, comparisons, and even purchased more rods than my budget allowed to try and give an honest opinion. Here are my recommendations on the best trout spinning rods.

I am going to exclude the ultra-premium and foreign market domestic rods. Simply because I do not have the budget to test them.
Looking for a spinning reel to go with your new trout rod, I have reviewed my 12 favorite trout reels here.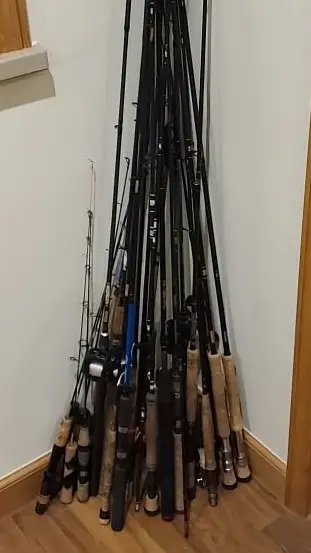 Shakespeare Micro Spinning Rod
Best affordable spinning rod for trout fishing
If one rod represents an unbeatable value. It is the Shakespeare Micro Spinning Rod. I challenge anyone to find a significantly better trout rod for under $80, but it does not cost $80, it usually costs around $20. The value is tremendous.
The Shakespeare micro comes in four models. The stars are the 5.6ft and 7ft models. The blank gets the compromise just right. There is enough backbone for long casts and good enough sensitivity to detect nibbles and slight bumps as a lure rubs against structure.
The blank bends in a nice even curvature its entire length. This really helps spread the load allowing for an even transfer of momentum and power throughout the cast and when fighting fish. If I had to describe the action I will call it medium-fast. If you choose to fish with braid, there will be no noticeable difference in sensitivity between this rod and the more premium ones below.
The Micro Spinning rod comes with Stainless Steel guides with Stainless inserts. These are cheap guides, generally, stainless inserts are strong and durable enough to handle braid but I have read reports of tip guides developing groves when fished heavily with braid.
I do not usually recommend The 4.6ft and 5ft versions for lure fishing. They are a bit too soft, more a wet noodle than a fishing rod. They are also a bit too short for bobber fishing or bottom bouncing. In saying that. they are a very forgiving rod for children to use.
To summarize. The Shakespeare Microlight is lightweight, the components are what you find standard on all cheaper rods. It is possible to spend double, or even treble and not get any more rod for the money. Quite simply, this is a brilliant entry level trout rod.
Okuma Celilo Ultra Light Trout Rod
If for some reason, you can not find the Shakespeare, or it does not come in your desired length. The Okuma Celilo is a worthy alternative.
So, how does the Celilo differ from the Shakespeare Micro Rod above? It comes in several more lengths, and I feel the rods are ever so slightly lighter.

The quality of the components is very similar. It comes with aluminum oxide guides which are found on many rods at this price point. Aluminum oxide guides are very durable, and I have never heard of them developing groves when fishing with braid.

The Okuma Celio features a corked grip, which is slightly more molded than on the Shakespeare. Some anglers might find it more comfortable but I have no preference.
It has an under-the-blank hook holder which I prefer. The Shakespeare for some unknown reason has its hook holder on top of the blank.
It is slightly more expensive, but another ultralight rod which is perfect for trout fishing.
Ugly Stik GX2
Best unbreakable spinning rod for trout fishing
I own a lot of Ugly Stiks. I am rough with my gear and Ulgy Stiks can survive almost anything.
The Ugly Stik GX2 has to be one of the toughest fishing rods ever made. If you are prone to breaking things, or simply want a nearly indestructible rod to lend out then the Ugly Stik GX2 should be at the top of your list.
For starters, at under 5ft the ultralight model is quite a short rod. Yes it comes in longer lengths, but they are all too powerful for trout fishing. It will be a challenge to cast light lures.
So for general trout fishing, I suggest going for the 4'8″ ultralight version, it is rated for 2-6lb line. It is also a very nice rod for casting in tight places like small creeks and overgrown streams.
The 5ft light version (4-10lb) is the rod I use when fishing live minnows for trophy trout after dark but that is a niche application.
The GX2 is a blend of graphite and fiberglass, making it extra durable. It also has a clear solid tip which is nearly impossible to break. No need to worry about point loading and snapped tips.
I own several Ugly Stiks GX2 and rate them highly. Yes, they do not have the same responsive sensitivity as graphite, but due to the overall softness, it is still possible to detect nibbles and bumps. They are more sensitive than many people give them credit for and they are not half bad at casting. Yes, it is old technology. But it works and works rather well.
They also come with a rather impressive 7-year warranty, but I doubt many people will ever have to use it.
Eagle Claw Featherlight
Best fiberglass rod for trout fishing
It was not a long time ago that most rods were fiberglass. Only the most premium models were graphite. Now graphite or at least composites dominate the market in all price segments. Yet, there remains a real demand for a basic fiberglass pole.
The Eagle Claw Featherlight is a throwback to an older style of rod. A style that many still prefer especially when swinging spoons and spinners. There is just something a little bit special about the inherited softness of a full glass rod.
The Featherlight is available in 6 models, ranging in length from 5'0″ all the way to 9.0″. They are all suitable for trout fishing, although the longer rods are a bit more powerful. The 9.0″ with its gentle slow action is actually very nice for drifting bobbers.
I do not usually comment on rod colors. But the Featherlight certainly makes a statement. It is bright yellow, and really stands out. It might be bright and bold, but I doubt it will scare any more trout than a black or gray rod.
So for the fiberglass rod aficionados, the Eagle Claw Featherlight might just be the rod you were looking for.
KastKing Blackhawk II
Best affordable telescopic rod for trout fishing
This is a telescopic rod. I do not generally like telescopic rods. But they can be very convenient to store and travel with. This is why I decided to include a single telescopic rod on this list. The model which is most suitable for trout fishing is the 6'6″ medium light.
Most telescopic rods excluding some Japanese market models are terrible. I explain why over in my 'best telescopic rod' buyers guide but will briefly explain why here. Most telescopic rods have too few, and very badly space guides. The blanks simply do not load evenly.
The Kastking Blackhawk II features a new guide technology that is rarely seen in North America. These are sliding guides. The guides slide up and down the blank allowing them to fit more guides onto the blank. The end result is a telescopic rod with the correct number of guides.
The blank is not as good as found in the Shakespeare or Okuma above but it is still decent, and there is no better telescopic rod for under $200.
St Croix Trout Series Spinning Rod
Best enthusiast spinning rod for trout fishing (Under $200)
The St Croix Trout Series spinning rod is quite the leap up in price over the previous rods on this list. The reason why you need to spend this much money to get a noticeable difference in the rods performance. This rod has good all round sensitivity and comes with a significantly better warranty than the cheaper rods.
The length makes the trout series line of rods well suited for fishing trout streams and other overgrown areas. But do not let the length trick you, they are still excellent casters. The blank offers good sensitivity, but at the same time is durable enough to survive the odd drop and scratch thanks to a double application of clear coat.
The thick coating of clear coat is a double edged sword. On the positive, it makes the blank more durable, better at surviving the knocks and drops of the trout stream. But on the downside, it does make the rod feel a bit stiffer, less sensitive overall.
I personally feel a good trout rod needs to be durable enough to survive the occasional drop, fall and tumble. Yes, there is a slight lost in sensitivity, but not enough to really influence the fishing. It can still flick out ultralight lures just fine.
For extra peace of mind, the Trout Series also comes with 5 years of warranty and from the feedback I have received St Croix does stand behind their products.
Unlike the more expensive St Croix rods, these are not made in the United States, but imported from Mexico. There has been a few quality control issues sneaking through, such as guides slightly out of alignment. If you are unfortunate enough to receive such a dud, I suggest returning it for a replacement.
Frequently ask questions?
What defects to look for when buying a new rod?
Most rods are mass produced item, so it is inevitable that a few defects will make it to the retail self. Expensive rods have fewer defects but they still happen every so often. This is why warranties exists.
When buying a new rod, I always check to see if the rod guides have been installed correctly and not out of alignment. I want to say this applies to all rods, but spiral wrap rods do exist but such a design should never occur on a spinning rod.
All spinning rods should have their guides in a straight line on the underside of the blank. They should not be crooked, leaning to one side or bent at a wrong angle. If the guides are not straight, that is a defect, send it back for a replacement.
The second most common defect is harder to identify visibility. But usually shows up with a bang just after you start fishing. A slight imperfection or chip in the graphite can be enough to cause a rod to break when new. Manufactures do test their rods but defects do sneak through, plus rods can be damaged in transit. I have had a brand new Shimano spinning rod explode on my 5th cast, just below the ferrule. This again is another valid reason for a warranty claim.
Finally, graphite rods are delicate. They must be fished with a degree of care. Nine times out of ten, when a tip breaks it is due to user error. Not a design flaw, nor damage. If you hold a graphite rod too upright any downwards pressure is enough to cause the tip to break. Some manufacturers and retailers do still replace rods that are point loaded, but that is more a sigh of goodwill rather than any obligations on their part. If you keep breaking tips, go purchase a fiberglass rod or Ugly Stick gx2.
What length trout rod is most suitable?
In the guide above, I did give my recommendations on the lengths most suitable for trout fishing.
When deciding on what length to buy ask yourself where are you going to fish. If you are only going to be fishing lakes and big open areas with plenty of room to cast then by all means go for a longer rod. They provide slightly more line control and might even increase casting distance by a few yards.
If you are fishing in tight, overgrown streams. Where there is not always much room for casting. Then a shorter rod has really benefits.
I usually trout fish with a rod around 6'6″ in length. I feel that is a good middle ground. Long enough for lakes, but short enough for streams. It is the best compromise.
For a more detailed explanation on different niches different length rods suit, I suggest reading my guide here.
How to pair a trout rod with a large spinning reel
I recently received an email from a reader asking for reccomendaitons on using a Shimano Sienna 4000 for trout fishing. She wanted to know what rod to pair it with.
For those who do not know, A Sienna 4000 weighs in at 11.3oz and is designed around fishing 10lb line. That is quite big for a trout reel. Usually, any reel over about 8oz is a bit on the large size, and pairing it with any ultralight rod will create a poorly balanced combo which is more tiring to fish with. Other than buying a smaller reel, there is no easy answer but there are compromises.
It might be tempting to pair the reel with a heavier weight rod, this would result in a balanced combo. But a heavy rod will struggle to cast tiny trout lures. It is not an acceptable option.
The best compromise, at least in my view, is to try and pair it with a long ultralight rod. Something about 9ft in length. This extra length will somewhat balance out the weight of such a large reel. Yes, it will be more tiring to fish with. But at least, it will still cast the tiny lures.
Disclaimer:  Some of our pages contain affiliate links. At no cost to you, Troutresource may receive commission from purchases made through such links.  Here at Troutresource we try are hardest to give unbias advice and gear recommendations independent on whether we earn a commission or not.