Best Wading boots buying guide |2021
Wading boot buying guide | updated 2021
Welcome to our guide, to help you find the best wading boot for your needs. Over the last few seasons, I have been in the fortunate position to test and try many wading boots. I have been in contact with several full-time fishing guides who basically live in their wading boots for much of the year. With this knowledge, I have complied my advice on what I believe are the best wading boots currently available.
---
Having steady footing and stability while wading increase one's confidence and enjoyment when fishing. The proper footwear can provide increase grip and a sense of security on all but the most slippery of surfaces.
Two types of Soles dominate wading boots, the traditional felt soles offer excellent grip on wet and slime covered rocks. The newer alternative, rubber soles which are improving with each generation.
Most trout anglers would agree, that felt soles offer the best grip when wading. Although when worn over the winter months, felt can freeze and become a snow magnet. Making the boots extremely heavy and cumbersome to walk in.
So why purchase rubber soles? There are several reasons, but one of the most common is to protect the stream's health. Felt soles take a very long time to dry. Which makes them the perfect host for transferring unwanted microbes and organisms such as Didymo algae or New Zealand mud snails between catchments. This threat to the health of our waterways has even seen felt and other matted or woven soles banned in many jurisdiction.
Rubber soles are also much better on land. So if you have a long walk into your fishing spot rubber soles might be the way to go.
Freestone Wading boots $169.95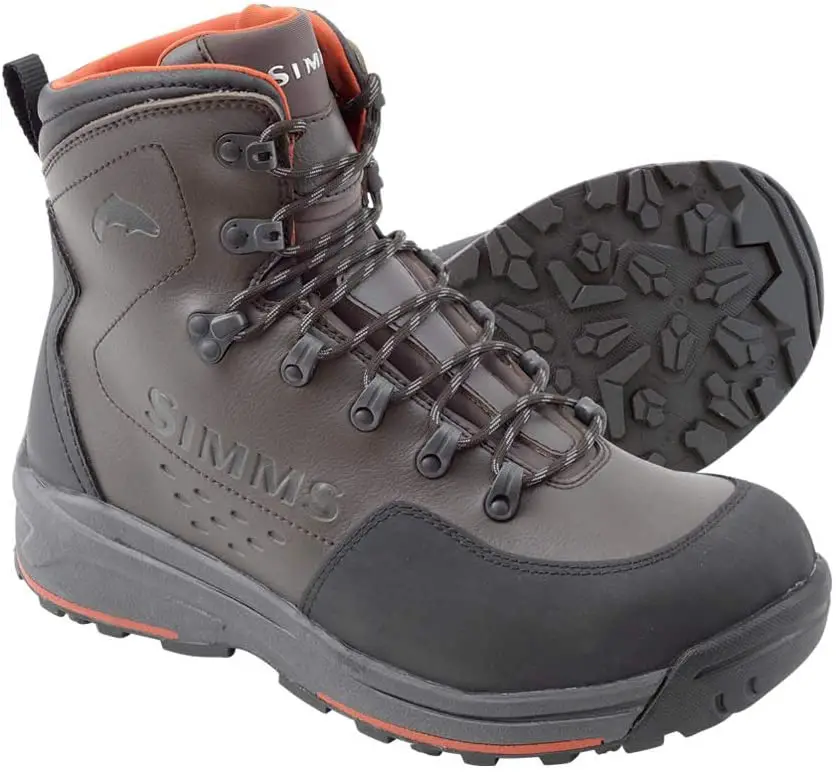 Simms is among the most famous names for waders and wading boots. Their Freestone model might just be the best compromise between price, quality and comfort currently available. The new version of Freestone boots on my feet are even more comfortable. I hiked and fished many miles and never got a blister. I wish all boots were so kind right out of the box.
I find them comfy to wear all day, and I never had hot spots or blisters while wearing them.
The Simms freestones are not the lightest wading boot due to their sturdy construction. I really like how quickly my Simms Freestones dry; they have minimum spongy material which will otherwise trap moisture. The first day I wore them, I decided to sleep in my truck overnight to fish the dawn. I left the boots outside, just behind the back tyres. In the morning I woke to a heavy dew, I was expecting to put on wet boots. I was shocked when they were bone dry, unlike my merino socks.
It is not uncommon for my Freestones to dry completely overnight, even left beside my tent. I wish the same holds true for all boot brands. Although, I will add, with age I find they are staying wet for longer. Maybe the water repellent coatings is slowly wearing off.
The rubber soles grip most rock types solidly. While the cleats, adds confidence walking over slippery algae-covered stones. I lost my footing once, navigating my way down a steep grass-covered bank. The tall wet grass was still wet from the morning dew and was extremely slippery. Such difficult terrain would prove challenging to any sole.
One complaint, the cleats which are designed to improve grip on algae covered rocks seem to be quite easy to lose. I lost one after only the second trip. The replacement Simm cleats are on the expensive side. Luckily third party replacement cleats are much more affordable.
I applaud Simm for making their boots available in a large range of sizes. Starting at size 5 all the way to the massive 16. As someone who wears a size 15, I wish other manufacturers will take note.
---
Simm Flyweight wading boots $199.95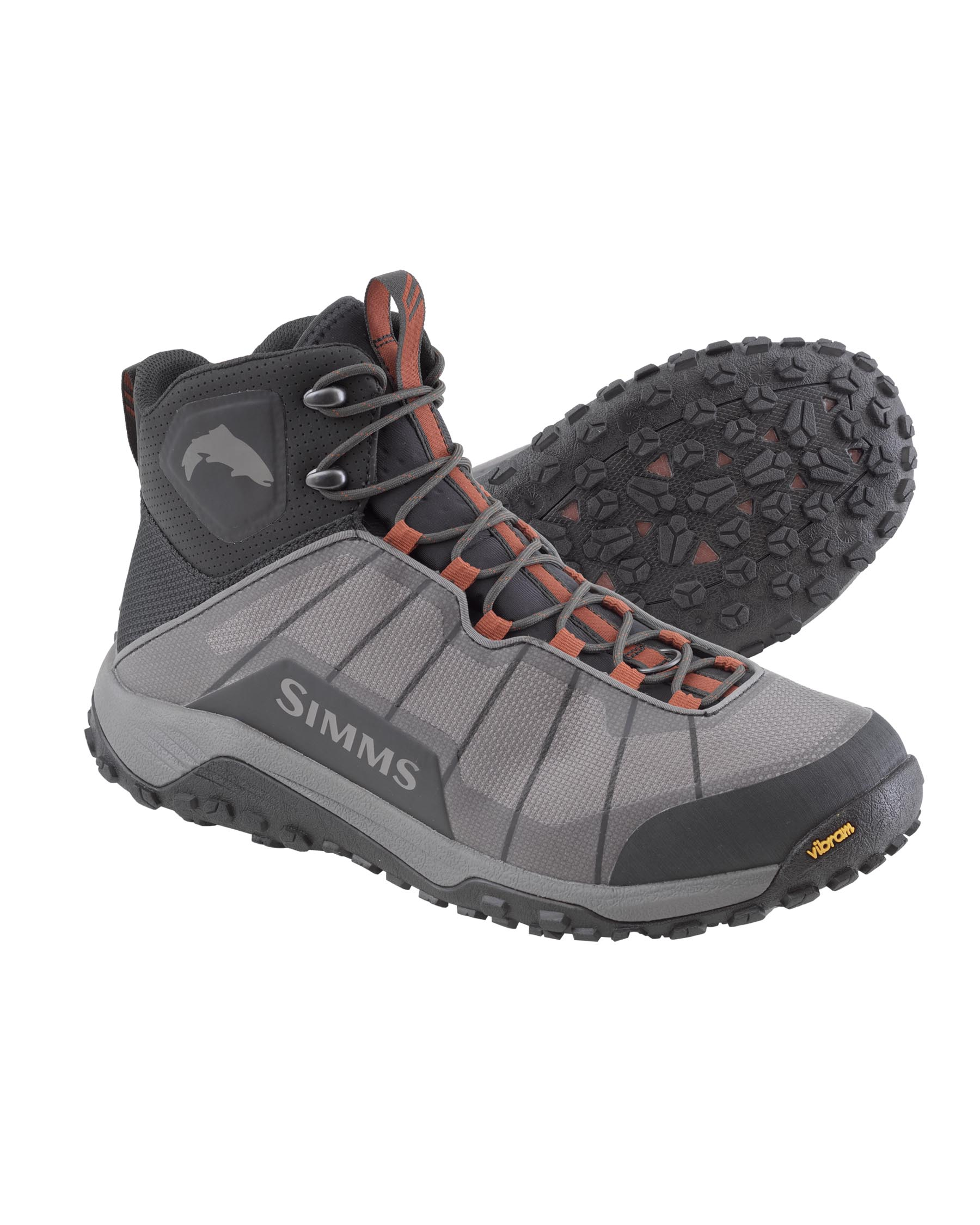 Do you want to combine hiking and fishing? the Simm Flyweight wading boots are light on weight but not on performance. Simm Flyweight might be the best lightweight wading boots currently available. In this short review, we will take a deeper look to see if they deserve their reputation.
Wading boots are traditionally heavy, a design decision to prioritize stability and durability. However, there is a price to pay. Such heavy boots can be tiring to walk in, lightweight wading boots such as the Flyweight are becoming increasingly popular.
I have owned my Simm Flyweights for nearly a year now. I have no complaints regarding the durability or longevity. Depending on use, most footwear I own do not survive more than a couple of years and by the looks of things I should get another season out of my flyweights. I will not claim the lightweight construction is as durable as traditional leather wading boots but it is certainly good enough.
They are comfy to wear. Although the double tongue, because it overlaps slightly does rub slightly against the top of my boot. Only an issue when I am wearing thin socks.
Overall I find they feel more like a shoe to wear than a boot. They are not stiff. Even with cold stiff fingers they are easy to put on and take off. Ankle support is decent, especially if I tie the laces up tight.
After a day on the river, my feet feel less tired in my Flyweights compared with my Freestones. The weight saving does makes a real difference. I have happily replaced my hiking boots with my Flyweights on backpacking trout fishing trips.
Why not wear hiking boots instead?
Simms Flyweight wading boots actually feel like hiking boots, not cumbersome wading boots. Unlike hiking boots, they come with speciality soles designed to maximize grip on wet surfaces.
They dry quickly, and the cushioning does not hold an excessive amount of moisture. So unlike most hiking boots, the weight does not increase significantly once saturated. The soles offer reassuring grip, both when crossing fast-flowing rivers and on hiking trails.
Simm Flyweights vs Orvis Ultralight?
Who makes the best ultralight wading boots? The Simms Flyweight and the Orvis Ultralight are two of the top contenders. I do not own the Orvis Ultralight, I have only borrowed a pair for a couple of trips to gain an opinion.
The main reason I went for the Simms Flyweight rather than the Orvis Ultralights is because they are significantly lighter, and the difference in weight only becomes greater once wet. The material used in the Orvis boots seems more absorbent, once wet they were quite a bit heavier.
In saying that, the Orvis Ultralights still dry very quickly, faster than most hiking boots but not as quickly as the Simms.
If the extra weight does not concern you, The Orvis Ultralight wading boots are better in several ways. Firstly, I will say they are more comfortable, probably due to the extra padding. Plus the tongue of the Simms Flyweight forms a sort of a overlap inside the boot which presses down on the top of my foot. It did rub, and was slightly uncomfortable while wearing thin socks.
Another advantage of the Orvis Ultralight, is that they come with much more defined heel. This makes foot placement feel more secure. I will say, the Simms feels like a shoe while the Orvis feels more like a lightweight boot.
If you are planning on doing more hiking than wading. The Orvis Ultralight might actually be the better choice. They do weigh more, but they are more supportive.
Finally, the shoe laces supplied with the boots are rather short. Many fishermen replace them with a longer pair. If you are looking for durable laces for your wading boots then I highly recommend Obenauf's Boot Laces Industrial Strength.
Which is the best? They are both good boots. I personally like the Simms, but if you are after a more supportive boot, which is still combatively light the Orvis Ulralights are certainly worth considering.
---
Patagonia Foot Tractor $349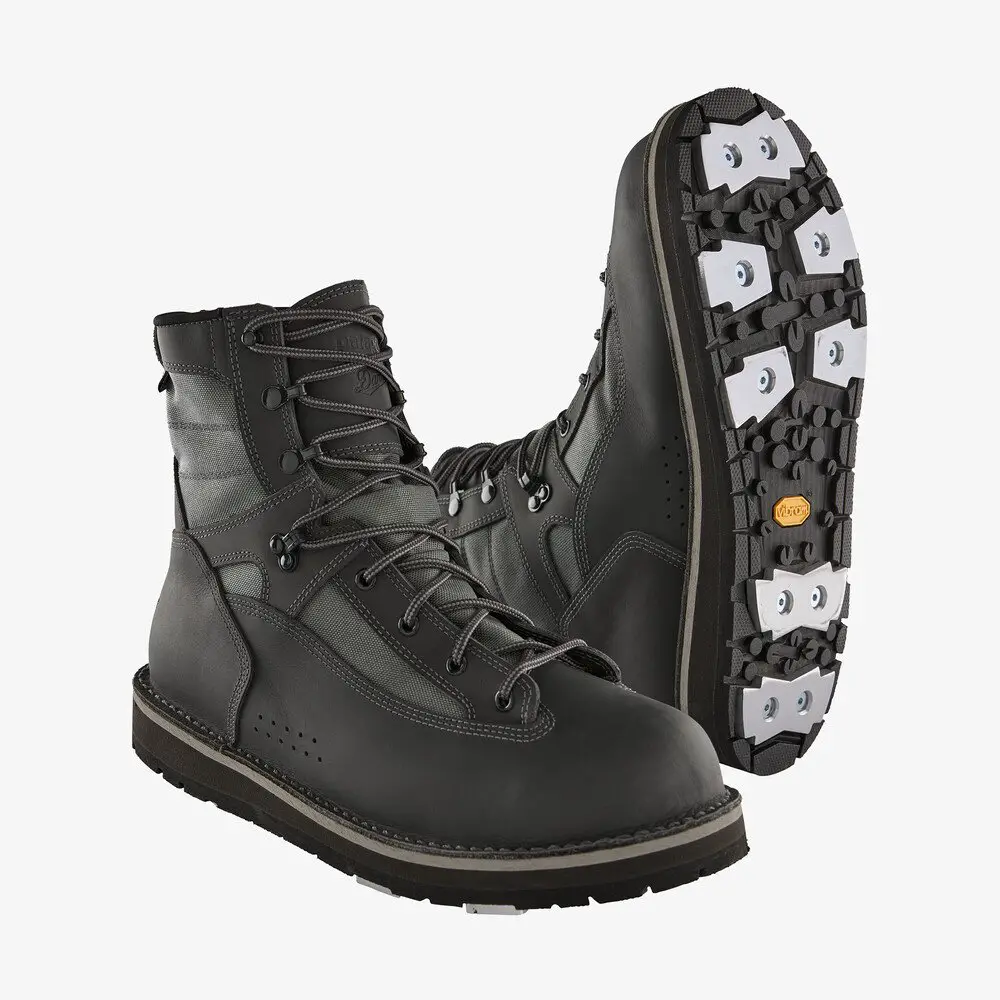 Patagonias previous wading boot suffered from poorer than expected durability. The current version of their foot tractor was a turning point. Patagonia collaborated with Portland based boot manufacturer Danner. The goal, to design the most durable, supportive wading boot available on the market today.
The collaboration was a success, today's Patagonia foot tractor wading boots is an excellent boot. Manufactured by Danner in the United States, the Foot Tractors are very durable and supportive boot.
Patagonia has a warranty and support second to none, and in designing the Foot Tractors Patagonia made design decisions to guarantee longevity. The Foot Tractor were designed to be repairable, possibily the only wading boot available today which can make such a claim.
I must mention it. The Patagonia foot tractors are heavy, maybe even the heaviest I have worn. Certainly not designed for extended back country trips, but I am a convert to ultralight wading boots for backcountry adventures. For shorter, less mobile fishing trips on big and swift rivers, they are hard to beat.
Rubber Sole Version
Patagonia used Vibram Idrogrip soles on the rubber version. Designed to grip securely to wet surfaces, they were an excellent choice. Idrogrips offer reassuring grip on most terrain types. I have worn them down mossy slippery banks, through muddy marshes, over boulders and up freestone creeks and the soles are equal to the best I have worn. In very slippery mud conditions or slick clay the grip is lacking, but such surfaces test all soles. They are a significant improvement over felt in such challenging conditions. Vibram Idrogrip soles are very thick and hard wearing. They are going to last.
Aluminium Bar
I only worn the Aluminium bar version on one fishing trip. The bars provided impressive traction and assuring stability. They were good at cutting through thick slime. Based on my own brief experience, and feedback bar grips offer excellent grip, well worth the weight when using in fast flowing rivers where a solid grip is paramount.
Disclaimer:  Some of our pages contain affiliate links. At no cost to you, Troutresource may receive commission from purchases made through such links.  Here at Troutresource we try are hardest to give unbias advice and gear recommendations independent on whether we earn a commission or not.